The year was 1970. Hidden away on Fernald Avenue in Morton Grove Illinois, Pequods Pizza started a cult following for its pan style pizza with a "caramelized crust" edge.
Locals enjoyed the hometown pizzeria for its unique atmosphere and great deep dish pizza. In June of 1986 the original owner sold the pizzeria, leading to a rebirth. New leadership has reinvigorated the restaurant. The menu expanded and a savory thin crust pizza was added to the fabled pan pizza.
As word of mouth popularity grew, Pequod's became the best known secret for pizza in Chicago's northwest suburbs. Many of the faithful continue to make pilgrimages to Pequods even after moving from the Chicago area. January 1992 began a new chapter in the Pequod's legend. In response to the pleading of many faithful customers, Pequods opened in the Lincoln Park neighborhood of Chicago.
Thanks to the enthusiastic patronage of loyal customers, Pequod's began to build a new cult following in the Windy City, quickly becoming known for late night pizza and delivery of their world class deep dish pizza.
Since 1970, Pequod's Pizza has served some of the city's most mouthwatering pan pizzas. Our original location, which still operates in Morton Grove, was the brainchild of the late Burt Katz. He sought a way to bring his signature caramelized crust from Gullivers Pizza & Pub, which remained open in nearby Rogers Park until January 2022.
Katz stayed at Pequod's until 1986, when he sold the business to new owners, and in 1992, these new owners opened a second location in Lincoln Park. The Lincoln Park neighborhood is the perfect spot for nature lovers since it has a bevy of parks, the Peggy Notebaert Nature Museum, and the Chicago Lakefront Trail. It's also a shopper's paradise with numerous beautiful boutiques lined in historic row homes. Once you're done exploring the outdoors or shopping to your heart's content, you can head over to Pequod's to refuel.
Questions about the menu?
Pequod's
Morton grove Menu
Questions about the menu?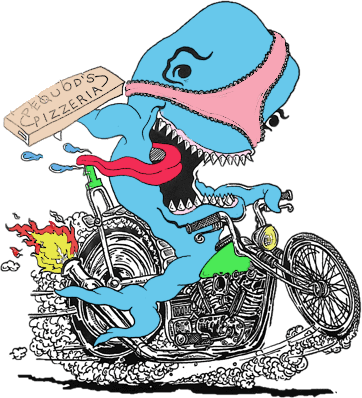 Frequently asked questions
What style of pizza is Pequod's?
Pequod's Pizza is pan-style, a close variant on Chicago deep-dish style pizza.
Which Pequod's is the original?
Our Morton Grove location is our original location, opening back in 1970.
Do you have parking available?
Street parking is generally available for both our Chicago and Morton Grove locations.
Do I need a reservation?
We recommend you make a reservation for your visit, as our restaurants can get busy.
What are your hours?
The Chicago location is open Monday – Saturday: 11am – 2am and Sunday: 11am – 12am. In Morton Grove, the hours are as follows: Monday – Thursday: 11am – 9:30pm, Friday: 11am – 11:30pm, Saturday: 12pm – 11:30pm, Sunday: 12pm – 9:30pm.
Do you take reservations?
Yes, we take reservations through our partner Tock. We always recommend making a reservation as walk-in availability is limited. On short notice, you can call the restaurant for current availabilty.
Are you handicap accessible?
Yes, both Pequod's locations are handicap accessible. Please let us know about any mobility constraints that would prevent your party from using stairs.
Do you have outdoor seating?
The Morton Grove location has outdoor seating available as weather permits.
Do you offer Take-out or Delivery?
We do offer both Take-out and Delivery options. *Take-out and delivery pizza orders will be uncut to ensure the highest quality pizza. If you would like your pizza cut, please specify when ordering.
Do you ship your pizzas?
We ship our pizzas nationwide with Goldbelly.
Where do I pick up my Take-out order?
You will receive a check number via email or text message when your order is ready. Once you receive that message you can pick up your order the the respective restaurant. In Morton Grove, Take-out orders can be picked up at our valet window in the alley next to the restaurant. In Chicago, Take-out orders are available for pick up at the host stand. On Friday & Saturday from 4pm – 9pm and Sunday from 5pm – 8pm, all Take-out orders are available at Whale Tale just two doors down from Pequod's.
Can I pre-order?
You can place orders for Take-out and Delivery in advance by calling the restaurant or ordering online at order.pequodspizza.com. Due to health department regulations, standard dine-in orders cannot be placed in advance.
Do you have gluten-free crust options?
We do not currently offer any gluten-free crust options for our pizzas.
Do you offer vegan cheese?
We do not currently offer cheese alternatives as an option for our pizzas.
What is the order cut-off time?
The last order must be placed at least 30 minutes prior to the restaurant closing time.
How many people does your pizza feed?
Personal Pan 7": 1 person Small Pan 10": 1-2 people Medium Pan 12": 2-3 people Large Pan 14": 4-5 people Small Thin 10": 1-2 people Medium Thin 12": 2-3 people Large Thin 16": 4-5 people.
How many toppings can I put on my pizza?
You can add as few or as many toppings as you would like to your pizza. We recommend no more than 5 toppings. If you choose to add toppings that are known for losing water during the cooking process (onion, green pepper, mushroom, tomato), we recommend adding extra cheese to reduce fogginess.
Do you host Private Events?
Yes! Our team enjoys hosting private events ranging from birthdays, rehearsal dinners, anniversaries, staff parties, baby showers and more. Send us an email at reserve@pequodspizza.com for more information!
Do you offer Catering?
We do offer catering options tailored to your needs. To inquire, please email service@pequodspizza.com.