Private Event Space for Rent in Chicago, IL
Host your next party in a fun, casual atmosphere with pequod's party room rental in chicago.
We offer party room rental and planning for birthdays, anniversaries, staff parties, baby showers, corporate meetings, holiday parties, media events, and more!

We have Wi-Fi and monitors available for any event.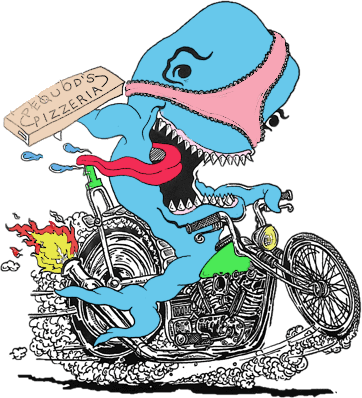 Private Party venue in chicago
The room is set for you to enjoy your private party with no interruptions by outside guests. The private room has a 50 person maximum and is secluded from the rest of the restaurant. The room includes large leather booths, 3 flat screen televisions and an entertainment center at your control.
The private room is booked two ways, during Prime Time and Off Time. The private room is booked for a maximum of 3 hours. You will have one to two servers to accommodate your party's needs.
Prime Time Party Room Rental Cost
Prime times with room charge of $300 are Thursday night, Friday- Sunday mornings. Parties are able to order from the menu instead of through packages. 
Prime times with 40 adult minimum of $48 per person package (no room charge) is Friday – Sunday Nights. 
Off Time Party Room Rental Cost
Off Time is anytime Monday through Thursday 11AM-4PM. To book the private room during Off Time, you need to have a minimum of 40 guests. A party package is not required to book a private room during Off Time and guests can order from the menu. The room charge during Off Peak Time hours is $150. 
 Whether you're celebrating a birthday, graduation, new baby, or any other event, Pequod's Pizza has the perfect space for you. Rent our private party room and let us help you celebrate with your close friends and family. Choose one of our party specials, including unlimited pizza, soda, and/or tap beer. You can also let your guests pick what food they want directly from the menu. The choice is yours. \
Choose Pequod's Pizza for your next private party
Pequod's Pizza is known for a delectable caramelized crust paired with either pan or thin-crust pizzas your guests are sure to love. Our pan pizzas are close to what you would consider deep dish, but they're unlike the traditional deep-dish varieties you probably picture. Our pizzas have lacy and blackened edges, while the crusts remain crunchy and dense. Add in sharp and tangy mozzarella cheese cooked along the edge of the cast-iron pan along with your favorite topping choices, and your guests will be thanking you for planning your gathering here.
If you want to offer your guests other food choices, you can also enjoy a variety of delicious pasta dishes and sandwiches. When you step inside our restaurant, you will notice a casual atmosphere that appeals to just about any customer, and our outstanding customer service keeps our regulars coming back.
We are open daily, so you can plan your gathering for whatever day works best for your schedule. Our accommodations are subject to change based on the rules and regulations set forth by the City of Chicago on the specific reservation date.
Private Party Room in Chicago
With a 50-person maximum, our small private party rooms are the perfect spot to have an uninterrupted celebration. Our Chicago private party rooms are secluded from the rest of the restaurant, guaranteeing you won't receive any unwelcome guests crashing your festivities. The room includes three flat-screen televisions, large leather booths, and an entertainment center all for your guests to enjoy. We also have some outdoor spaces for rent, depending on the weather.
chicago Party Room rental cost
When you're ready to secure our private party room for your next event, you can reserve the space for a maximum of three hours either during Prime Time or Off Time.
Prime Time:

Reserving the room during Prime Time means you have the space either Thursday night or the mornings of either Friday or Saturday. The rate for these days is $300, and you can order from the menu instead of through packages. Another option during Prime Time includes Friday through Sunday nights. During this time, the cost is $48 per person but doesn't include a room charge. You need at least 40 adults for this option.

Off Time:

This time consists of any time from Monday through Thursday from 11 a.m. until 4 p.m. You need a minimum of 40 guests, but you don't need to purchase a party package to book time during Off Time. Your guests can order food directly off of the menu. The room fee during Off Time hours is $150.
private Pizza Party Menu
You can't go wrong with any of our food choices for your private party, but consider your guest list before ordering the food. You might be tempted to order the pan pizzas, but depending on the number of guests and seating space, it might make more sense to order several thin-crust pizzas. That way it's easier for your guests to enjoy, and they won't need to sit down to enjoy their fully loaded piece of pan pizza. Our pizzas come in the following sizes:
Small 10-inch

Medium 12-inch

Large 16-inch
Some of our more popular pizza toppings include:
Cheese:

Although it's the most basic food option, most people will eat cheese pizza if they're craving pizza.

Pepperoni:

This classic pizza is loved by most people who enjoy meat on their pie. In a

survey we conducted

, 68% of people we asked said they loved pepperoni on their pizza.

Mushroom:

Don't forget to include vegetarian options for those who don't want meat on their pizza but want something other than cheese. Our survey also found that mushroom was the second most popular choice.

Sausage:

Another favorite meat option,

sausage pizza

packs a heavy punch. This is the topping choice of the city, with Italian sausage the meat of choice.
Don't think that you're limited to just these choices. Pequod's Pizza offers more than a dozen different toppings, so feel free to combine a few for your order. These toppings include the following:
Anchovies
Black olives
Canadian bacon
Extra cheese
Extra sauce
Fresh basil
Fresh garlic
Giardiniera
Green pepper
Ground beef
Italian beef (premium topping)
Jalapeno
Meatball (premium topping)
Onion
Pineapple
Spinach
Tomato
Not a Pizza Lover? We Offer Other Food Choices
Consider adding several non-pizza options for your guests. We offer our famous wings or pasta options, some of which include mostaccioli, spaghetti, tortellini, and ravioli. You can also purchase our signature Pequod's salad or Cesar salad to give your guests some lighter fare. Plus, side dishes are always a good choice so your guests can enjoy a little variety during your party. If you happen to have leftovers, those are yours to bring home and feast on the next day.
When you're ready to book your next Chicagoland small party venue, reach out to Pequod's Pizza. Email us directly to book your next party at either our Morton Grove or Lincoln Park in Chicago locations. We can help you plan your next event, whether that involves a birthday party, graduation, corporate event, anniversary gathering, or another special occasion.