Image via Flickr by Takashi Toyooka
The beauty of Chicago is that there are so many things to discover and explore. From its breathtaking architecture to its vibrant food scene, there's something for everyone to enjoy. One of the best ways to spend a day in the Windy City is to check out its many world-renowned museums. Visit these six Chicago museums to get started.
Chicago Children's Museum
The Chicago Children's Museum offers fun for the entire family, including all kinds of interactive exhibits that children love. They can make works of art, build skyscrapers, play in a treehouse, and even dig for dinosaurs. Kids Town, where young children can learn through problem-solving and creative exploration in a kid-sized town, is an especially popular exhibit. The museum also has STEM, literacy, arts, diversity, and health programs for children and teens.
Read detailed descriptions of all of the museum's exhibits online. The Chicago Children's Museum is open from 10 a.m. to 5 p.m. daily and until 8 p.m. on Thursdays. Admission is $19 for adults and children and free for children under one, though Chicagoland residents get a $3 discount. Tickets are also discounted every Thursday from 4-8 p.m. for Play Late Thursdays, and admission is free for kids 15 and under on the first Sunday of each month.
Art Institute of Chicago
The Art Institute of Chicago is the second-largest art museum in the United States. It houses some of the most well-known masterpieces in the world, such as "A Sunday on La Grande Jatte," "Nighthawks," "American Gothic," "The Bedroom," and "The Old Guitarist." If you're a fan of Impressionism, this art museum also has an impressive collection of works by Monet. You should also check out the collections of African art and medieval armor as well as the many traveling exhibitions.
Explore the museum's collection virtually on its website, where you can learn more about each artist and the intention behind their work. Since the museum is quite large, this can also help you plan out what collections you want to see ahead of time.
The Art Institute of Chicago is open daily from 10:30 a.m. to 5 p.m., though it stays open until 8 p.m. on Wednesdays, Thursdays, and Fridays. Illinois residents can take advantage of free admission from 5-8 p.m. each Wednesday, and children under 14 get in free every day of the week. General admission is $25 for adults and $19 for seniors, students, and teens.
Museum of Science and Industry
People of all ages can learn a thing or two during their visit to the Museum of Science and Industry. This interactive museum features exhibits about energy, weather, transportation, space, farming, genetics, and so much more. Young visitors especially enjoy creating their own manufacturing designs at the Wanger Family Fab Lab. You can also get a first-hand look at history when you walk through the U-505 German submarine.
Visit the Museum of Science and Industry online to learn more about its different exhibits and tours. You can filter your options by type, age, and subject to find exactly what you want to explore. It's open from 9:30 a.m. to 4 p.m. daily. Admission is $21.95 for adults and $12.95 for children ages 3 to 11. You may also be able to save when you buy tickets online ahead of time. Check out the museum's website before you visit to find out about limited-time and ongoing offers, including free entree for Illinois residents 52 days per year.
The Field Museum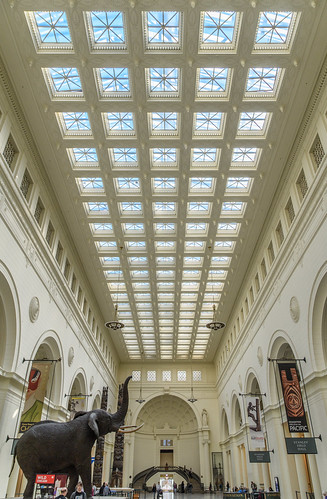 Image via Flickr by Peter Miller
If you're looking for a traditional museum experience, check out the Field Museum, one of the largest museums of natural history in the world. It features almost 500,000 square feet of exhibition space, so don't expect to see everything in one visit. Explore its extensive collection of mummy artifacts, Native American pottery, dinosaur bones, and traveling exhibits. When you first enter the museum, you'll be greeted by a giant titanosaur skeleton named Máximo. You can also find SUE the T. rex in the Evolving Planet exhibit.
Learn about the Field Museum's latest news and programs on its website. The museum is open from 9 a.m. to 5 p.m. daily. For Illinois residents, admission is $24 for adults, $21 for seniors and students, and $17 for children, and each ticket is $2 more for out-of-state visitors. The museum also offers free days for Illinois residents throughout the year, and active military personnel and Illinois teachers can enjoy free admission at any time.
Museum of Contemporary Photography
When you want a touch of culture during your visit to Chicago, stop by the Museum of Contemporary Photography. This art museum features six photography shows each year, and you can easily get through everything in a couple of hours. You may see noteworthy work from emerging artists or breathtaking archives from the museum's own collection. Expect to see work by world-famous photographers, such as Ansel Adams, Irving Penn, and Marina Abramovic. The museum's goal is to help people understand the artistic, cultural, and political roles of photography.
Get to know more about the museum's upcoming exhibitions and events on its website. The Museum of Contemporary Photography is open Monday to Wednesday and Friday to Saturday from 10 a.m. to 5 p.m. It's also open from 10 a.m. to 8 p.m. on Thursday and noon to 5 p.m. on Sunday. Admission is free for all visitors. This is a great stop to add to your day of fun in Chicago. You could pair it with another museum, or go in the afternoon and end your day with a delicious meal at Pequod's Pizza.
The American Writers Museum
The American Writers Museum is one of the newest museums in the city. Since its opening in 2017, it has quickly become one of Chicago's finest institutions. Literary fans can learn the history of their favorite American writers, such as Sylvia Plath, Ida B. Wells, and Kurt Vonnegut. You're even encouraged to type on the collection of typewriters, making this a great museum if you enjoy a more hands-on experience.
Visit the museum's website to check out its virtual exhibits. You can also learn more about its current exhibits and upcoming events. The museum is open from daily from 10 a.m. to 5 p.m. Admission is $14 for adults, $9 for seniors, students, and teachers, and free for children 12 and under. Check out the museum's website before you go to learn about their discounted group rates.
Although we covered six of Chicago's top museums, there are plenty more to explore. After a full day of learning and sightseeing, make sure to stop by our shop to grab a slice of the best deep dish pizza in town.