Best Thin Crust Pizza in Chicago
Pequod's caramelized crust pan-style pizzas may have put us on the map, but our thin-crust pizza keeps the legend alive. What started as a dream over 30 years ago has grown to one of the most awarded pizzas in the country. If you're hungry for some thin, crispy crust pizza in Chicago, Pequod's is ready to take your order.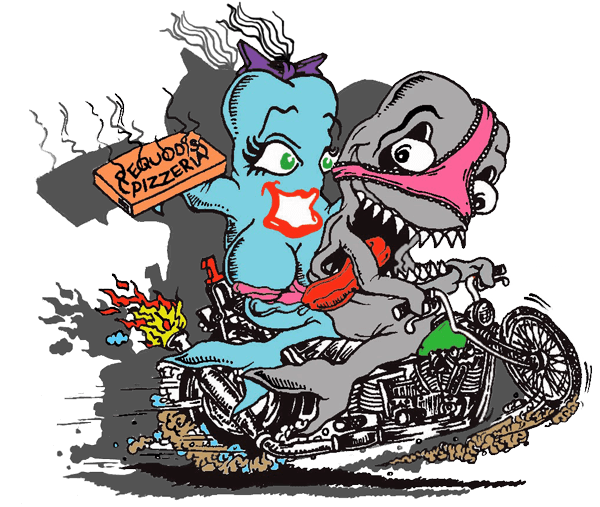 Dine-in, take out & Delivery
No matter whether you want to come to dine-in at our Morton Grove or Lincoln Park locations, pick up a pizza, or have one delivered, we've got your thin-crust pizza cravings covered. Just note, if you order pizza for takeout or delivery, it will be uncut to preserve the quality and temperature.
If you plan to dine-in, skip the long waits and make a reservation online. We accept parties of up to four people through the Yelp tool on our website. If you have five or six people in your party, there's a separate group request below the Yelp reservation one. 
You can also order online for pick up. Please make sure to read the rules below for the location you plan to pick up your pizza from before placing your order on our website.
For Chicago Pick-Up Orders:
Wait until you receive a text confirmation that your order is ready.

Get to the designated pick-up spot and be sure you have your face mask and order number.

Be sure you bring your order number as it's mandatory.

If you are ordering on Friday or Saturday between 4 p.m. and 9 p.m., pick up will be at Whale Tale.

Order-related questions should be directed by text to 773-485-7761. 
For Morton Grove Pick-Ups: 
Wait until you receive your text confirmation that confirms your order is ready for pick up. 

Go to the Pizza Valet Window and ensure you have your face mask. The window is located in the alley, adjacent to the restaurant. You can pay right from your car too! 

Be sure to bring your order number as we cannot turn over your pizza without it. 

If you have any order-related questions, send a text message to 312-459-4163.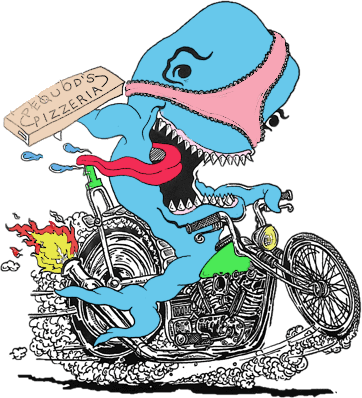 what sets pequod's thin crust apart?
Our caramelized crust has earned us a bit of a cult following, and we aren't complaining! The signature flavor and texture come from mozzarella cheese cooked along the edge of our cast iron pans, creating a caramelized crust and flavor like no other Chicago pan pizza. It's no wonder it's earned the moniker "a halo of goodness." Fortunately, we've replicated that in our thin-crust pizza as well.
Differences Between Chicago Deep-Dish and Thin-Crust Pizza
You'll find several distinct styles of Chicago pizza, one of which is the Chicago thin-crust. Aside from the obvious fact that the crust is thinner than a pan pizza, there are other notable differences. You'll see Chicago thin-crust pizza referred to as tavern-style, and we cut it into squares.
People who aren't familiar with Chicago thin-crust might confuse it with New York-style pizza. But which type of pizza has the thinnest crust? It's actually Chicago-style, which is baked a little longer than a New York-style pizza and has a crispier crust. 
The origin of the Chicago thin-crust aren't entirely clear, but it likely dates back to the 1940s. Many locals order thin-crust, saving the heavier pies for special occasions despite the fame associated with Chicago pan pizza.  
At Pequod's, our thin crust has the same caramelization you've grown to love with our deep-dish pizza. We've packed all the delicious flavor into a thinner crust for those who prefer something other than our famous caramelized pan crust. 
Best Toppings for Thin Crust Pizza
Start by surveying your dining companions on their favorite toppings. We offer plenty of options for meat lovers as well as vegetarians. If you're ordering a Pequod's thin crust pizza for the first time, you can't go wrong with our signature sausage and pepperoni. For non-meat eaters, consider mushrooms, green peppers, onions, and basil. Go wild with your toppings and add some premium options like our Italian giardiniera relish, fresh garlic, or pepperoncini peppers. 
Are you having a big group over? Don't forget we have more options than just pizza. Consider some wings or pasta too. We have delicious homemade pastas like spaghetti, ravioli, mostaccioli, and tortellini. Consider our signature Pequod's salad or a Caesar salad to complement your pizza for a healthy addition. 
Are you ready for the best Chicago pizza you've ever tasted? Come see us or order online today. Find out for yourself why Pequod's is the most awarded and recognized pizza.
Are you thinking of getting a pizza delivered? We offer thin crust pizza delivery in Chicago and the suburbs. We can deliver to most of North Chicago, including Lincoln Park, West Town, Near North Side, Lake View, North Center, and most of Logan Square. If you are near the fringe, call us to see if we can make it happen. Delivery is available Monday through Saturday from 11 a.m. to 2 a.m. with a cut-off time of 1:40 a.m. Delivery on Sunday is from 11 a.m. until midnight with a cut-off time of 11:40 p.m. Carry-out times are the same. 
If you are in the suburbs, our Morton Grove location may be able to deliver to you. We can deliver to parts of  Morton Grove, Skokie, Niles, Village of Golf, Glenview, Northfield, Lincolnwood, Park Ridge, Wilmette, Evanston, Edgebrook, and Winnetka. Note, our delivery area ends in the middle of some cities, so it's best to contact us first to verify if your address falls within our delivery range. 
Delivery charges will vary depending on the city. Delivery times are different at our Morton Grove location. On Monday through Thursday, it's 11 a.m. until 10:30 p.m with a cut-off time of 10:10 p.m. On Friday, we can deliver from 11 a.m. until 12:30 a.m. with a cut-off time of 12:10 a.m. On Saturday, delivery starts at noon and goes until 12:30 a.m. On Sunday, we offer delivery from 12 p.m. until 10:30 p.m. with a cut-off time of 10:10 p.m.
Ship Pequod's Pizza Nationally
Are you somewhere else in the country? Do you miss your favorite Chicago pizza, or perhaps you've never tried Pequod's pizza before? Now you can get our famous pizza shipped all across the country. Sausage, cheese, and pepperoni pizzas can be yours. We cook, freeze, pack, and send them on to you through Gold Belly.