Vegetarian Pizza in Chicago
For more than 40 years, Pequod's Pizza has served a pan-style pizza featuring a caramelized crust. Over the years, the menu has expanded to include a savory thin-crust pizza, making the pizzeria one of the most awarded and recognized establishments in the country. With two locations in the Chicagoland area, Pequod's offers the perfect pizza that you can top with your favorite ingredients, including tons of vegetables.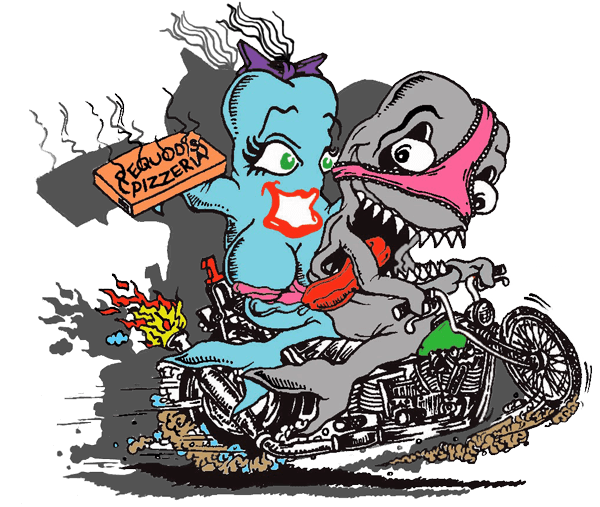 Vegetarian options at pequod's
Chicago-style pizza already sets itself apart from others because it's cooked in a pan instead of a baking sheet or pizza pan. Still, Pequod's goes a step further and uses an airy dough baked with a thin layer of cheese to give its pizza a crispy edge that has just the right amount of chewiness. When cooked in a cast-iron pan, it creates a "halo" of goodness. This type of crust acts as the perfect base for whatever toppings you add. If you're craving a mouthwatering vegetarian pizza from Pequod's, you can add any of the following toppings:
Black olives

Fresh basil

Fresh garlic

Giardiniera

Green olives

Green pepper
Jalapeno

Mushroom

Onion

Spinach

Tomato
For the optimal pizza quality, Pequod's recommends that you don't add more than five toppings. Also, if you plan to include a bunch of ingredients that tend to lose water, such as onions, mushrooms, peppers, and tomatoes, consider adding extra cheese to reduce sogginess.
Where can I buy vegetarian pizza in Chicago?
Now that your mouth is likely watering, you might wonder how you can get your hands and mouth immediately on a delicious vegetarian pizza from Pequod's. Luckily, you have several options, depending on your location.
Dine-In
Although Pequod's doesn't accept reservations, you can submit a priority seating request. At the Chicago location, stop in during one of the following times:
Monday through Saturday from 11 a.m. until 2 a.m.
Sunday from 11 a.m. until 12 a.m.
For the Morton Grove location, the hours include the following:
Monday through Thursday from11 a.m. until 10:30 p.m.

Friday from 11 a.m. until 12:30 a.m.
Saturday from 12:00 p.m. until 12:30 a.m.
Sunday from 12:00 p.m. until 10:30 p.m.

Carry-Out
The carry-out times are the same as the dine-in schedule. Nevertheless,  you're required to adhere to certain guidelines to ensure a smooth transaction once you arrive. For the Chicago location, follow these instructions:
Wait until you receive a confirmation via text that your order is ready.

Head to the designated pick-up location, and make sure you have your order number (since that's mandatory).

If your order is on Friday or Saturday between 4 and 9 p.m., the pick-up spot is at Whale Tale.
For any order-related queries, direct your question via text to 773-485-7761.
At the Morton Grove location, instructions are similar and include the following:
Wait until you receive a confirmation via text that your order is ready.

Head to the Pizza Valet Window, which is adjacent to the restaurant in the alley, and ensure you have your order number.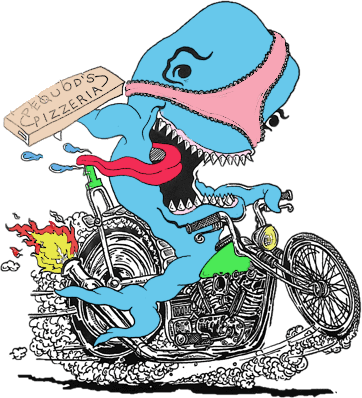 Vegetarian Pizza Delivery
To receive your vegetarian pizza in the Chicago suburbs directly to your home, request your order be delivered. We charge a standard delivery charge of $3.95, and depending on the total amount of your order, you might pay an additional delivery charge. Keep in mind that to ensure your pizza is as hot as possible, Pequod's doesn't precut pan pizza for delivery or pickup. However, if you'd prefer your pizza precut, just mention it when placing your order. Also, pan pizza order cut-off times are 20 minutes before closing.
For the Chicago location, delivery areas include most of the northern Chicago area, such as Lake View, Lincoln Park, Logan Square, North Center, North Side, and West Town. If you're unsure if you live in a deliverable area, give us a call and we can try to make it happen. Delivery times are 11 a.m. until 2 a.m. Monday through Saturday and 11 a.m. until 12 a.m. on Sunday.
Delivery hours differ slightly for the Mount Prospect location. They're 11 a.m. until 10:30 p.m. Monday through Thursday, 11 a.m. until 12:30 a.m. on Friday, 12 p.m. until 12:30 a.m. on Saturday, and 12 p.m. until 10:30 p.m. on Sunday. You can also get your pizza delivered from this location If you live in certain parts of Edgebrook, Evanston, Glenview, Lincolnwood, Morton Grove, Niles, Northfield, Park Ridge, Skokie, the Village of Golf, Wilmette, or Winnetka. The delivery area ends in the middle of some of these cities, so it's best to verify that your address qualifies for delivery.
Ship Pequod's Pizza Nationwide
If you don't live near the Chicagoland area and have a craving for some delicious Pequod's pizza or want to try it for the first time, you're in luck. We cook the cheese pizzas in-house, freeze them, pack them, and ship them directly to your house, thanks to our partnership with Gold Belly. When you're ready to enjoy your pizza, add your favorite vegetables to the top and just pop the finished product in the oven.
Are you ready to enjoy one of the best vegetarian pizzas in the Chicagoland area? If so, don't wait another minute to order some Pequod's pizza. You can stop into the Morton Grove or Chicago location to eat, have it delivered to your home, or shipped across the country. There's no reason you must wait another minute to have a slice or two of world-class Chicago vegetarian deep dish pizza.
Does Pequod's offer vegan deep dish in Chicago?
Chicago is known for having some of the best deep dish pizza spots around, especially when you conjure up images of ooey and gooey cheese stretching from one slice to the next. That aside, you might not think a company whose slogan is "crispy cheese crust or bust" and has a caramelized cheese crust would offer vegan pizza, but that's where Pequod's wants to set the record straight. All you need to do is request your pizza be made without any cheese, and your pie is as good as vegan. So good is the result that you won't be sacrificing taste for a quality vegan-friendly pizza.